---
Vous lever le matin motivée et sereine fait partie de vos résolutions 2017 ? Vous rêvez de réussir votre vie professionnelle, sans pour autant sacrifier votre bien-être au quotidien ? Nous aussi ! C'est pour cela qu'on est devenues Ambassadrices bordelaises du concept Newake, développé à Paris, Pau et Montpellier par les fondatrices Amandine & Claire Orriols. Le premier beforework à Bordeaux a lieu le 7 février 2017 et ce sera l'occasion parfaite pour (re)découvrir les bienfaits du yoga matinal, entraîner votre cerveau à être positif et réseauter de bonne heure autour d'un petit déjeuner healthy, le tout conçu pour faire des miracles !
C'est quoi un beforework Newake ?
Le principe ? On laisse enfants, maris et animaux domestiques se débrouiller un matin tous seuls et on rejoint dès le lever un groupe de femmes prêtes à se construire une vie rayonnante.
Cette matinée inspirante se déroule de 6h30 à 8h30, avant le travail donc, autour de 3 activités : une séance de yoga, un atelier de coaching et un petit déjeuner sain et gourmand. Le lieu, les intervenants et les marques partenaires diffèrent d'une édition à l'autre dans le but de vous faire découvrir plein de nouvelles choses à chaque fois. Vous êtes prêtes ?

Pourquoi participer à un beforework ?
Vous êtes nombreuses à avoir testé le Miracle Morning avec nous et à avoir lu le livre de Hal Elrod, devenu aujourd'hui bestseller international. On ne vous dira pas qu'il faut absolument vous lever à 5h pour réussir votre vie, parce que nous-mêmes ne le faisons pas, et parce qu'il est vital pour votre santé d'avoir un sommeil de qualité et de respecter votre rythme biologique.
→ A lire aussi : The Miracle Morning : notre expérience
En revanche, s'il y a une chose à retenir de cette expérience, c'est que la façon dont on commence notre journée est cruciale ! Elle conditionne le reste de la journée et donc, au final, toute notre vie. On ne peut pas maîtriser tout ce qui va se passer dans notre journée, acceptons-le et arrêtons de lutter contre la montre et le monde entier. Gardons notre énergie pour la canaliser là où l'on peut réellement agir. Le matin est le moment parfait pour le faire.
Prendre soin de soi au lever, faire le plein de bonnes ondes et de bons aliments, « remplir d'abord sa coupe » avant de devoir donner aux autres, comme dit Cécile du Palais Savant, c'est prendre soin de sa source ! Quoi de plus important ?
Trouver le temps pour une matinée miraculeuse vous semble impossible ? Trop de travail, une famille à occuper dès le réveil, une to-do list à la rallonge ? Et si cette matinée n'était pas que pour vous, mais bénéficiait au bien-être de votre famille, votre équipe, votre activité toute entière ? Que ce soit juste 10 minutes de yoga ou de méditation, ou 10 min d'une lecture qui vous fait grandir, ou 10 min pour préparer un petit déjeuner qui réveille votre motivation et vous donne les bonnes bases pour une journée constructive, tout cela est précieux au quotidien !
Voilà ce qu'on a envie de partager avec vous lors de ces beforework bordelais. Alors, on ne peut que nous réjouir de vous retrouver pour nous rapprocher ensemble d'une meilleure version de nous-mêmes.
Retour sur les 3 beforework organisés en 2017 à Bordeaux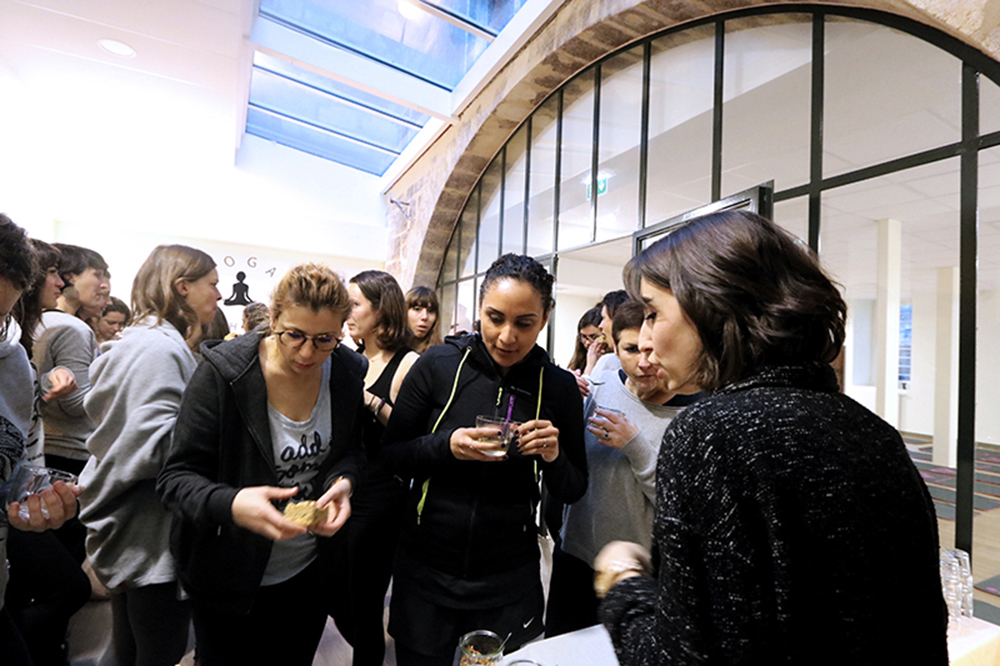 Beforework n°1 : mardi 7 février 2017 de 6h30 à 8h30
Lieu : Studio Yoga with You (38 quai de Bacalan, Bordeaux)
Déroulé en 3 temps :
• Morning Yoga Flow | avec Agnès du studio Yoga with You
• Atelier « Entraînez votre cerveau à être positif " | avec Matthieu de B Happy
• Petit déjeuner sain & équilibré | par C'est si bon Nutrition
Partenaires : 
Yoga & goodies : EQ Love / Esprit Yoga / Yoga Searcher Bordeaux
Petit déjeuner : Chic des Plantes ! / Dear Muesli / Sol Semilla / La Ruche qui dit Oui ! / MCM /
Déco : JADE Design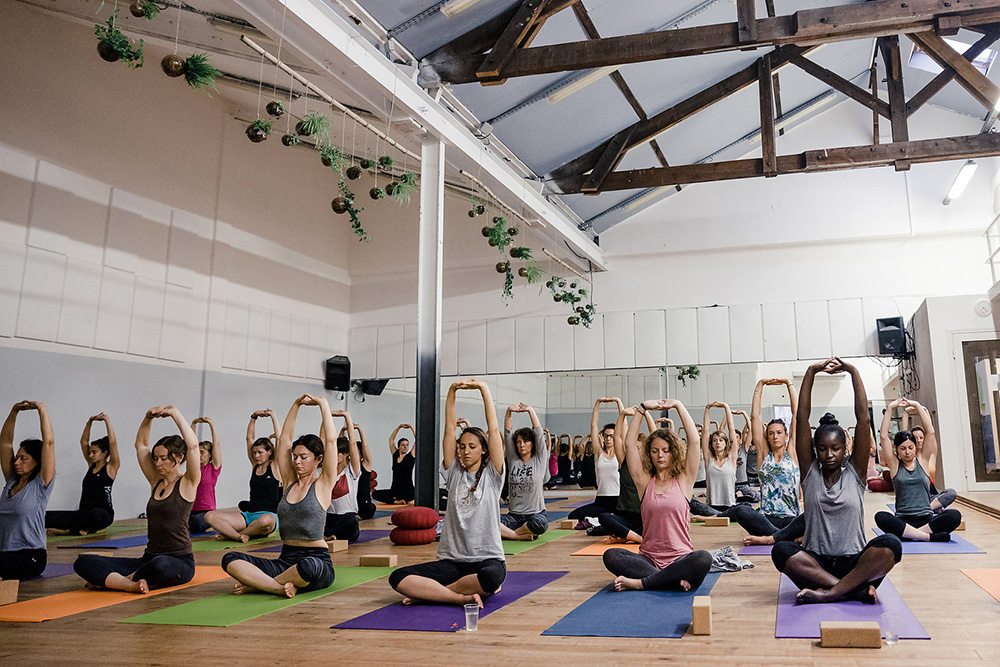 Beforework n°2 : 23 juin 2017 de 7h à 9h dans le cadre du Bliss Yoga Festival Bordeaux
Lieu : Bivouac Bastide (44bis rue Promis, Bordeaux)
Déroulé en 3 temps :
• Yoga Vinyasa | avec Cyril Moreau du studio Nataraja
• Atelier « Initiation à la méditation en pleine conscience » | avec Patrick Horst du Bivouac Bastide
• Petit déjeuner healthy | par Mango Chill
Partenaires : 
Yoga, petit déjeuner & goodies : Yoga Magazine, Mon Assiette Locale, oOlution, Løv Organic
Voir toutes les photos de l'événement ici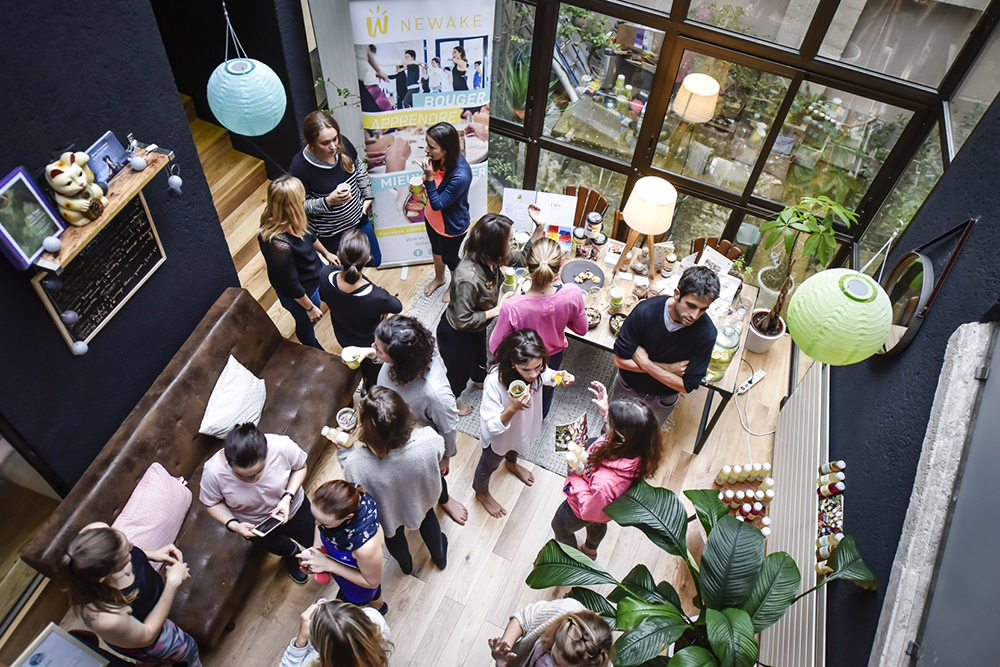 Beforework n°3 : 26 septembre 2017 de 6h30 à 8h30
Lieu : Studio Yoga Pop (5 passage des Argentiers, Bordeaux)
Déroulé en 3 temps :
• Yoga Vinyasa | avec Lauren Mahan Valls du studio Yoga Pop
• Atelier « Donner du sens et de l'attention à sa vie" | avec Elodie Caillaud
• Petit déjeuner healthy | par C'est si bon Nutrition
Partenaires : 
Yoga & goodies : Natur'Move, BAYA, noxidoxi, les Instantanés Bordeaux
Petit déjeuner : Kokoji, Jubiles, Løv Organic, Sol Semilla
Voir toutes les photos de l'événement ici
Crédits photo : Newake, Fleur Devigne, Sarah Miramon, Anaka

Après 2 et demi d'activité inspirante, le projet Newake s'arrête en novembre 2017.
En tant qu'Ambassadrices pour Bordeaux, nous sommes particulièrement reconnaissantes à l'équipe Newake, qui nous ont fait confiance et nous ont fait part de leur expérience, professionnalisme et bonne humeur. Un grand merci à tous les participants et intervenants, qui ont cru autant que nous à ce projet, et à nos partenaires pour leur soutien infaillible. Une page se tourne mais l'aventure C'est si Bon continue !
Les raisons pour cette décision ici
Notre sélection pour vos matinées inspirantes :

Que pensez-vous du concept des beforework ?
 Avez-vous déjà participé ? Si oui, racontez-nous comment vous l'avez vécu !

https://www.cestsibonnutrition.com/wp-content/uploads/2017/01/cestsibon-nutrition-newake-bordeaux-yoga-pop-photo-by-anaka-f.jpg
340
450
Administrateur
http://www.cestsibonnutrition.com/wp-content/uploads/2017/08/logo-csb-transparent.png
Administrateur
2017-01-15 20:00:52
2017-12-22 17:28:47
Les beforework Newake réveillent La Belle Endormie